Earthquake-resistant Support in all directions Tested and approved 400-1200 mm
Secure seismic solutions
Bergvik offers earthquake-resistant flooring solutions that meet both the US government and international requirement specifications. If your system is sensitive to shaking, it is highly likely to be sensitive in all three directions of movement. Many earthquake-resistant systems on the market today are only laterally based and lack support for vertical ground motions. Bergvik Iso Floor Seismic supports full support in all three directions of movement which provides a much more stable floor during shaking. The design does not depend on any support from a raised access floor but is instead securely anchored directly from the equipment down to the concrete sub floor with seismic anchors. Iso Floor Seismic Bracing can be installed directly under your equipment, making sure that all sensitive equipment is protected during an earthquake.
Full support in all three directions of movement. Tested in accordance with AC156 and NEBS GR-63.

Finished floor heights between 400-1200 mm.

All heavy equipment stands directly on the steel frame.

The frame's arch design provides full access to the plenum area in service aisles.

Unique flexibility with various types of accessories for different equipment.
Manufactured in Sweden and USA with a 5-year warranty.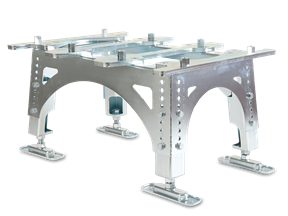 Bergvik seismic bracing frame.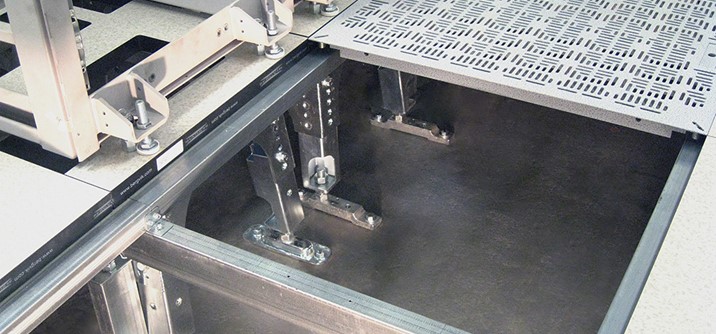 (opens in new window) 
Floor system in general
Gross weight

With Wood Core Panel: 48 kg/m2 floor area
With Calcium Sulphate Panel: 72 Kg/m2 floor area

Distributed Load

10-50 kN/m2

Finished Floor Height (FFH)

Iso Floor Seismic

 

Typical: 400 mm - 1200 mm
Custom: up to 2100 mm

Specification steel sub-structure
| | |
| --- | --- |
| Pedestals | 60x60x3 mm. Adjustable ± 25 mm |
| Primary Beam | 80x40x1,5 mm |
| Secondary Beam | 80x40x1,5 mm |
| Fire Rating | Non-combustible |
| Corrosion Protection | Hot-dipped galvanized |
Specification wood core floor panel
| | |
| --- | --- |
| Material | 38 mm high density particle board, classification V20 as standard. Moisture resistant panel core classified as V313 as an option. |
| Format | 600x600, 800x600, 400x600 mm as standard. Customised sizes are available. |
| Coating | Bergvik direct laminate |
| Decor/Colour | M335 as standard. Alder and Oak as options. |
| Weight | 28 kg/m2 |
| Load class | Load tested according to EN 12825 |
| Fire rating | Bfl-s1, according to EN 13501-1. ASTM E84 Class1 with laminated aluminium on the underside. |
Specification Calcium Sulphate floor panel
Material

36 mm fiber-reinforced calcium sulphate panel

Format

600x600 mm

Coating

Vinyl or HPL laminate covering

Decor/Colour

Vinyl: as per specification
HPL laminate: P577 Walk Print

Weight

51 kg/m2

Load class

Load tested according to EN 12825

Fire rating

A2, according to EN 13501-1. Non-combustible.
Complete range of accessories
We provide a wide range of accessories for our floors. One example is Bergvik's smart holder clamp for cable ladders, which is very easy to attach and offers several different options for cabling. The range also includes ventilation grilles and panels in different materials and sizes. Contact us for more information on our range of accessories.
F
astener for cable ladder bracket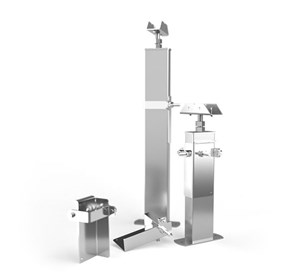 Bergvik's holding clamp for cable ladder brackets is an accessory adapted to Iso Floor and HiFlex Floor (finished floor height minimum 400 mm). They fit most of the usual ladder brackets on the market and it is also possible to attach other equipment, such as e.g. "Canalis rails" directly to this fastener.
The holding clamp is designed for easy mounting and has two fastening pins (M10) for attaching the ladder on two sides. If fastening pins are needed on several sides, you must connect two units. The holding clamp is easily attached to the pedestal with a mount and two M8 nuts. The holding clamp comes electro-plated and is ordered/delivered complete for the mounting of two brackets per pedestal.
V
entilation grille

Bergvik's ventilation grille in hot galvanised finish is available in several sizes and materials - both grounded and ungrounded.
Each mesh is 33x33 mm with 2 mm support profiles, which means that as much as 77% is open surface.
Contact us for more information on our ventilation grilles.
Calcium sulphate panels
Bergvik's floor panel of calcium sulphate is a non-combustible panel and resists moisture very well.
As standard, it is coated with 0.9 mm HPL laminate (Print 577).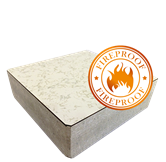 It can also be supplied coated with plastic or linoleum or uncoated (tongue and groove, 32 mm).
The underside is coated with aluminium foil or alternatively, steel plate. Calcium sulphate is a fibre-reinforced plaster and is
thus non-combustible. This makes it especially suitable for environments where you want to prevent smoke build-up,
such as in mines, tunnels, underground stations.
Calcium sulphate is also suitable in environments with high humidity and major temperature changes.

Panel lifter
Practical panel lifter which makes it easy to lift and place floor
panels during maintenance, installations, repairs and such.
Ramps

Custom built ramp with anti-slip protection as standard. 
Can be delivered together with the associated railing.
Stairs, Railings, Ramps, Border Fascia Panels
This ensures proper, neat and safe access onto your Bergvik raised access floor.
We offer custom designed stairs, produced to match the floor finish.
We also offer aluminium railings and ramps, custom built for each project by Bergvik.