Cost effective Heavy equipment Many suspension points Future-proof
A smart, simple construction
Iso Flex-Grid is a flexible ceiling system that acts as both a separate return air duct and as a complete support grid for suspension of power rails, containment solutions, cable ladders, etc. Because the system has a high load-bearing capacity, no additional attachments are needed through the inner ceiling up to the ceiling above. The ceiling layout can easily be adapted to row aisles, equipment or other needs by placing the carrier profiles where they are most needed and not according to a predetermined pattern. If, at a later date, it is necessary to make alterations or additions, Iso Flex-Grid can easily be modified and supplemented according to the new needs.
Iso Flex-Grid is both a flexible, load-bearing ceiling system and a separate return air duct.

Very low maintenance cost as no extra fixings are needed through the ceiling up to the ceiling above. Everything is attached directly to Iso Flex-Grid – even heavy equipment.

Iso Flex-Grid allows a maximum number of suspension points in all directions.

The system

is not dependent on the server rack placement and dimensions.

With Iso Flex-Grid it is easy to attach security caging or containment solutions directly to the ceiling structure.

Very cost effective for future expansion.

Provides fewer production interruptions and damage to/above ceiling when upgrading equipment. Saves costs both in terms of production and personnel costs.

By using our patented Surface Access Clip, the ceiling panels are locked in place individually but can easily be lifted with a lifting device. No other system offers this possibility today.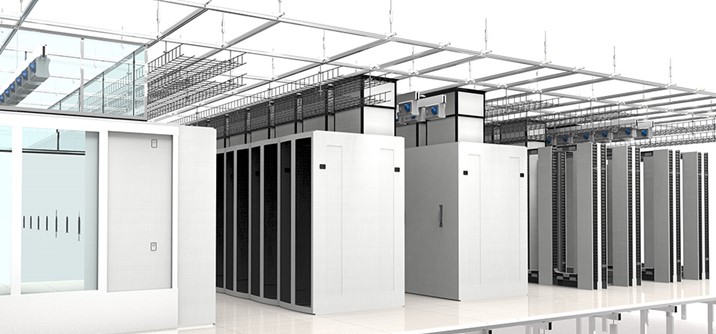 Ceiling system in general
Extrusion materia

l

Extruded aluminium

Extrusion alloy

6106

Temper

T1

Profile w

eight

1 kg per lineal meter 
System weight
| | |
| --- | --- |
| 1200x1200 mm grid configuration | 2,8 kg/m2 |
| 1200x600 mm grid configuration | 3,95 kg/m2 |
| 600x600 mm grid configuration | 5,44 kg/m2 |
Point load ratings at L/250 (span/250)
| | |
| --- | --- |
| 63 kg at the centre of a 1200 mm span |   |
| 89 kg at 305 mm from a supported connector |   |
| 300 kg minimum directly under a supported grid connector |   |
Specification connector
| | |
| --- | --- |
| Material | Die cast metal |
| Connector alloy | Zamak 5 |
| Turn buckle material | 304 stainless steel |
Specification ceiling panel
| | |
| --- | --- |
| Material | 4 mm aluminium alloyed panel with a core of Polyethylene, Type LDPE |
| Weight | 4,8 kg/m2 |
| Format | 1200x1200, 1200x600, 600x600 as standard. Customised sizes are available. |
| Fire rating | UK, Test according to BS 476, Part 6. Class index 0. |
| Colour | White or black. Larger volumes can be delivered in any RAL colour. |